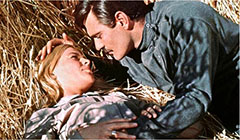 Director | DAVID LEAN

USA, UK, Italy / 1965 / Colour / 197' / DCP
English, Russian and French with Turkish sub.

Screenplay | Boris Pasternak, Robert Bolt
Cast | Omar Sharif, Julie Christie, Geraldine Chaplin
As one of the top unforgettable movies in the history of cinema, Doctor Zhivago meets the audience once again.
Dramatized from the Nobel winning first novel of the author Boris Pasternak, Doctor Zhivago was directed by the famous British director David Lean. Egyptian actor in the leading role, Omar Sharif impresses the audience by his Doctor Zhivago performance, which had a vital role in his international popularity.
The movie with a setting during the civil war period right after the Bolshevik Revolution in Russia, centers around Yuri Zhivago, both a poet and a doctor, falling in love with the revolutionary leader's wife (Julia Christie), and the challenges he faces afterwards, being stuck between his life and dreams. Beyond this story of Zhivago, audience witnesses the political dynamics of the revolution process and the social chaos in Moscow. Being a period drama in this sense, Doctor Zhivago draws attention by its memorable scenes, as well as its historical and heroic style. Likewise, Oscars it has won in 1966 for "Best Cinematography", "Best Art Direction", and "Best Costume" simply prove this.
The movie also received the "Best Adaptation Scenario" and "Best Original Music" Oscar awards. The music accompanying the memorable scenes, on the other hand, belong to Maurice Jarre, one of the most remarkable composers when it comes to film soundtracks.