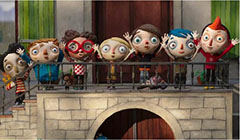 Original title | Ma Vie de Courgette
Director | CLAUDE BARRAS

Switzerland, France / 2016 / Colour / 66' / DCP
French with Turkish subtilte

Screenplay | Céline Sciamma, Gilles Paris
Cast | Gaspard Schlatter, Sixtine Murat, Paulin Jaccoud
As the first full-length film of the Swiss director Claude Barras, My Life as a Zucchini travelled the four corners of the world, following the premiere held in Cannes Film Festival in 2016; admired by the audience everywhere it screened. The movie is now a guest to Kundura Cinema for a screening held specially for kids and families.
Adapted from the novel titled Autobiographie d'une Courgette of the French writer Gilles Paris, the movie centers around a 9 year old boy. Courgette starts living in an orphanage after his mother's sudden death. Although he could not get used to the orphanage in the beginning, Courgette makes friends as he witnesses the lives of other orphans like him in time; learns to trust people and found a new family.
Addressing the difficulties of living in an orphanage partly with an emotional way as well as using humor on the other hand, this stop-motion animation appeals to not only children, but also to adults. In the interview given by the director Barras, he expresses that "Adults cry while watching the movie, feeling a sort of nostalgia on their childhood. Children, on the other hand, leave the movie with questions about future on their minds."