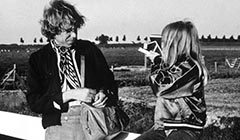 Germany / 1974 110' / B&W
German with English & Turkish sub.

Director | Wim Wenders
Screenplay | Wim Wenders, Veith von Fürstenberg
Cast | Yella Rottländer, Rüdiger Vogler, Lisa Kreuzer

German journalist Philip goes to the US to a write article about it. Feeling unfamiliar to everything in the country, Philip decides to return to Germany. Meanwhile, he meets a German woman and her 9-year-old daughter Alice. This encounter changes Philip's life entirely.
| | Event Name | Location | Date | Status | |
| --- | --- | --- | --- | --- | --- |
| | ALICE IN THE CITIES | Kundura Cinema | 02.03.2019 16:00 | Not On Sales | |
| | Alice in the Cities | Kundura Cinema | 09.03.2019 19:30 | Not On Sales | |
| | Alice in the Cities | Kundura Cinema | 16.03.2019 19:30 | Not On Sales | |