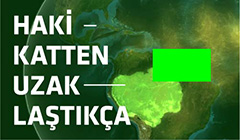 Free of Charge
CLICK HERE for the registration form.

In the face of climate degradation that would have seemed impossible, absurd or surreal if seen from the past. There is a need for mythology or irrational explanations for the inexplicable.
Running parallel to the 16th Istanbul Biennial of the Istanbul Foundation for Culture and Arts (IKSV), curated by S. Buse YILDIRIM and Pia CHAREVERTI-WUERTHEWEIN, As Real Becomes Surreal, we explore the practices of artists who have turned to myth and fantasy as a means of addressing the contemporary world. Addressing topics ranging from urban decay to the relationship of humanity and its surroundings, many of the artists draw on their own biographies and bodies, and throughout the works, the natural environment is personified, demanding space and agency upon the screen.

Programme:
14 September - 9 November 2019
Each Saturday (14, 21, 28 September | 5, 12, 19, 26 October | 2, 9 November)
1:30pm - 3:30pm • Four Short Film Screenings
5:00pm - 6:30pm • Feature Film Screening

1:30pm - 3:30pm
Flow (2018, 29') | Director: Su Ming-Yen
Beyond the North Winds: A Post Nuclear Reverie (2019, 24') | Director: Natalie Cubides-Brady
The Open Forest (2017, 24') | Director: Barbara Marcel
And What is the Summer Saying (2018, 24') | Director: Payal Kapadia

5:00pm - 6:30pm
Leviathan (2012, 87') | Director: Lucien Castaing-Taylor & Verena Paravel

*Free event, registration is needed. Before coming to see the film you choose, please fill the form.

HOW TO GET THERE?

You may use the shuttle, provided especially for the screenings "As Real Becomes Surreal", from Tophane to Beykoz Kundura.
Departure Point: Tophane bus stop in front of Tophane-i Amire Culture and Art Center
Departure Time: 12 pm

You can drive to Beykoz Kundura. Free parking lots are available.

The Venue: Guests could enter the venue starting from 1 pm.
| | Event Name | Location | Date | Status | |
| --- | --- | --- | --- | --- | --- |
| | As Real Becomes Surreal | Kundura Cinema | 14.09.2019 13:30 | Past Event | |
| | As Real Becomes Surreal | Beykoz Kundura | 21.09.2019 13:30 | Past Event | |
| | As Real Becomes Surreal | Kundura Cinema | 28.09.2019 13:30 | Past Event | |
| | As Real Becomes Surreal | Kundura Cinema | 05.10.2019 13:30 | Past Event | |
| | As Real Becomes Surreal | Kundura Cinema | 12.10.2019 13:30 | Past Event | |
| | As Real Becomes Surreal | Kundura Cinema | 19.10.2019 13:30 | Past Event | |
| | As Real Becomes Surreal | Kundura Cinema | 26.10.2019 13:30 | Past Event | |
| | As Real Becomes Surreal | Kundura Cinema | 02.11.2019 13:30 | Past Event | |
| | As Real Becomes Surreal | Kundura Cinema | 09.11.2019 13:30 | Past Event | |