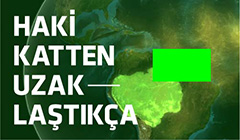 Running parallel to the 16th Istanbul Biennial of the Istanbul Foundation for Culture and Arts (İKSV), Kundura Cinema will feature a special selection of thematic screenings as part of a programme entitled As Real Becomes Surreal from 14 September – 9 November; four short films and one feature film have been curated by Pia Chakraverti-Wuerthwein and S. Buse Yıldırım.

In the program we explore the practices of artists who have turned to myth and fantasy as a means of addressing the contemporary world. Addressing topics ranging from urban decay to the relationship of humanity and its surroundings, many of the artists draw on their own biographies and bodies, and throughout the works the natural environment is personified, demanding space and agency upon the screen.

Programme:

14 September - 9 November 2019
Each Saturday (14, 21, 28 September | 5, 12, 19, 26 October | 2, 9 November)

13:30pm - 15:30pm

Flow
Su Ming-Yen (2018, 29:00)

Beyond the North Winds: A Post Nuclear Reverie
Natalie Cubides-Brady (2019, 24:00)

The Open Forest
Barbara Marcel (2017, 24:35)

And What is the Summer Saying
Payal Kapadia (2018, 24:00)

17:00pm - 18:30pm
Leviathan
Lucien Castaing-Taylor and Verena Paravel (2012, 1:27:00)

Date: 14 September – 9 November 2019
Time: 13:30 – 18:30
Venue: Kundura Sinema - Beykoz Kundura, Istanbul

*Free event, registration is needed. Before coming to see the film you choose, please fill the form.

Please check the update for shuttle services.