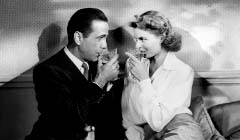 USA/ 1942 102' / B&W
(+18)
English with Turkish sub.
Director | Michael Curtiz
Screenplay | Julius J. Epstein, Philip G. Epstein
Cast | Humphrey Bogart, Ingrid Bergman, Paul Henreid
During the World War II, Casablanca, city of Morocco became a colorful, diverse place with Europeans running away from Hitler. Managing the most popular bar of the city, Rick Blain comes across with his former lover Ilsa and her husband Victor Laszlo, leader of the resistance. Rick is the only one who could help Ilsa and Victor to get out of the city.