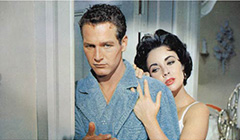 USA/ 1958 108' / Colour
English with Turkish sub.

Director | Richard Brooks
Screenplay | Richard Brooks, James Poe
Cast | Elizabeth Taylor, Paul Newman, Burl Ives

This 1958 film is based on legendary Tennessee Williams' just-as-legendary play Cat On A Hot Tin Roof with a Pulitzer Prize. Starred by Elizabeth Taylor who is etched in our memories with her unique beauty and striking performance and directed by Richard Brooks, the film is about alcoholic ex-football player Brick's separation from his wife and meeting with his father who is dying from cancer.
| | Event Name | Venue | Date | Status | |
| --- | --- | --- | --- | --- | --- |
| | Cat on a Hot Tin Roof | Kundura Cinema | 25.10.2019 21:00 | Past Event | |
| | CAT ON A HOT TIN ROOF | Kundura Cinema | 29.11.2019 21:00 | Past Event | |
| | CAT ON A HOT TIN ROOF | Kundura Cinema | 27.12.2019 21:00 | Past Event | |