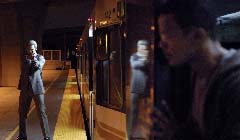 USA/ 2004 120' / Colour
English with Turkish sub.

Director | Michael Mann
Screenplay | Stuart Beattie
Cast | Tom Cruise, Jamie Foxx, Jada Pinkett Smith

Michael Mann's underrated film Collateral is about the all-night-long adventure of ruthless hitman Vincent and taxi driver Max who keeps postponing his dreams. Collateral is unique not only because it is one of the best action-thriller films, but also it has a narration based on the city and the lonely people living in it. Mann's camera technique, dialogues between Vincent and Max, elaborate views of the city and usage of light and music almost makes Los Angeles the star of the film.