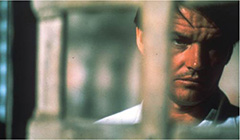 USA 1969 95' Colour and B&W
English and Spanish with Turkish sub.

Director Dennis Hopper
Peter Fonda, Dennis Hopper and Academy Award® winner Jack Nicholson (Best Actor, One Flew Over The Cuckoo's Nest, 1975) star in this unconventional classic which Time Magazine hails as "one of the ten most important pictures of the decade." Experience the real, uncensored '60s counterculture in this compelling mixture of drugs, sex and armchair politics. Jack Nicholson portrays an alcoholic attorney who hooks up with two part-time, drug-dealing motorcycling (Fonda and Hopper) in search of their "American Dream." Heading from California to New Orleans, they sample the highs and lows of America in a stoned-out quest for life's true meaning.