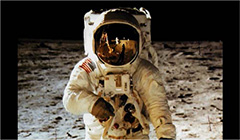 Special curation free of charge
REGISTRATION FORM

As the world celebrates the fiftieth anniversary of the Apollo 11 Moon Landing, it is important to remember the context within which the space flight occurred and what was at stake at the time. We present three films that toe the line between fact and fiction: using historical figures and/or contexts as the basis for absurdist twists and turns. They may not present the whole truth, but they all reveal something of what lies latent in our collective consciousness.

*Free event, registration is needed. Before coming to see the film you choose, please fill the form.
Screening Dates:
17 November, Sunday 16:00
15 December, Sunday 19:30
22 December, Sunday 19:30

FIRMAMENTUM CONTINUITAS
Germany, Russia / 2016 11' / Colour
Russian with English and Turkish sub.
Director | Esteban Rivera
Firmamentum Continuitas is a fictional film about Gennady Baranov, an ex cosmonaut that used to have undercover interviews with the pope Paul VI.

GENGHIS KHAN CONQUERS THE MOON
USA / 2015 15' / Colour
English with Turkish sub.
Director | Kerry Yang
In Genghis Khan's last days, an encounter with a Wizard sends him to the Moon. Just as the Mediaeval anti-hero thinks he's made his greatest conquest, he finds himself on a spiritual quest, realizing the absurd clash between one man's need and the silence of the Universe.

DARK SIDE OF THE MOON
France/ 2002 50' / Colour
English with Turkish sub.
Director | William Karel
A French documentary or, one might say more accurately, a mockumentary, by director William Karel which originally aired on Arte in 2002 with the title Opération Lune. The basic premise for the film is the theory that the television footage from the Apollo 11 Moon landing was faked and actually recorded in a studio by the CIA with help from director Stanley Kubrick.
| | Event Name | Venue | Date | Status | |
| --- | --- | --- | --- | --- | --- |
| | EVEN IF IT DIDN'T HAPPEN, IT'S TRUE | Kundura Cinema | 17.11.2019 16:00 | Past Event | |
| | EVEN IF IT DIDN'T HAPPEN, IT'S TRUE | Kundura Cinema | 15.12.2019 19:30 | Past Event | |
| | EVEN IF IT DIDN'T HAPPEN, IT'S TRUE | Kundura Cinema | 22.12.2019 19:30 | Past Event | |