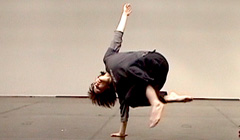 We invite you to the Intense Dance Days that will be held in Beykoz Kundura on August 26-31 to work in the fields focusing on dance and body or to enhance your body's physical capacity with 36 hours of training in 6 days.

Supervised by Prof. Tuğçe Tuna and consisting of 6 hours of training every day, the program offers Modern Dance Technique, Improvisation, Body Mindfulness, Stretching, Condition and Composition.

Program's trainers are Hilal Sibel Pekel, Melih Kıraç, Aslı Öztürk and Tuğçe Tuna.

While Intense Dance Days focuses on enhancing body's capacity of movement and perception, we aim to deal with the body holistically, make it physically stronger and more stretched, and also to experience different uses of effort with improvisation methods. We created a program that will enable you to focus on yourselves and achieve physical and intellectual integrity.

You are welcome to the Intense Dance Days open to beginners and professionals who want to get body-oriented training and the ones who want to get ready for the season. The studio is open to participants' personal practices between 4.30 and 6.30 pm.

The course can be in English on request.

The daily program is as follows:

10.30-12.30 Modern Dance Technique
12.45-14.00 Improvisation
14.00-14.30 BREAK
14.30-16.30 Movement Analysis and Composition
16.30-18.30 Unstructured Flow
Participation fee is 1800 TL, vat included (workshop and two meals a day are include in the price).
All participants above the age of 17 can attend the workshop.
To apply for the program, you have to send your resume to sahne@beykozkundura.com with "Intense Dance Workshop" as mail subject by August 16 and fill the Application Form. The qualified applicants will be announced on August 16.
After you are accepted, you may pay the fee by transferring the sum to Beykoz Kundura bank accounts or visiting our Accounting Office by August 21. The participants who do not pay by August 21, 5 pm cannot attend the program. Starting from August 22, the waiting list will be checked.
If you have questions, you may write to sahne@beykozkundura.com
For application: http://bit.ly/bykzkndr