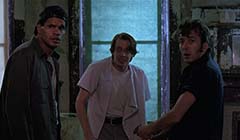 USA / 1989 110' / Colour
Japanese & English with Turkish sub.

Director | Jim Jarmusch
Screenplay | Jim Jarmusch
Cast | Masatoshi Nagase, Youki Kudoh, Screamin' Jay Hawkins

Japanese tourists, one of them Elvis fan and the other Perkins fan, who cannot decide whether they should go to Graceland or Sun Studios; a widow from Rome and a fugitive woman who decide to share a hotel room; a dumped husband and his brother-in-law who try to forget their miseries... Though the characters of these three different stories never meet, Jim Jarmusch skillfully connects these stories and manages to take them to different places like three railway cars towed by the same locomotive.