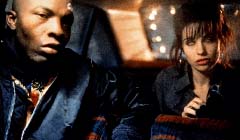 USA, France, Germany / 1991 129' / Colour
English with Turkish sub.

Director | Jim Jarmusch
Screenplay | Jim Jarmusch
Cast | Winona Ryder, Gena Rowlands, Lisanne Falk

Great director Jim Jarmusch follows five taxi drivers in a single night in five different cities, namely Los Angeles, New York, Paris, Roma and Helsinki, and creates an impressible film out of the dialogues in taxis. In Night on Earth, the stories of the characters with different problems and dreams also tell about the cities they live in. With extravagant characters, stories in different tones, Jarmusch's unique and wonderful dialogues and the camera evoking the spirit and rhythm of the cities in which it travels, Night on Earth is a really special film.