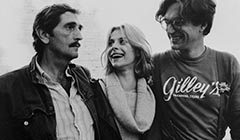 Germany, France, UK, USA / 1984 145' / Colour
English and Spanish with Turkish sub.

Director | Wim Wenders
Screenplay | L.M. Kit Carson, Sam Shepard
Cast | Harry Dean Stanton, Nastassja Kinski, Dean Stockwell

Travis is a reserved man who avoids expressing what is hidden in his soul. He walks on the roads which nobody would think about taking. One day, his brother calls him back to the modern world. Paris, Texas is the story of an isolated man who reconnects to life and his family.