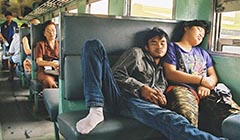 Thailand / 2016 102' / Colour
Thai with English & Turkish sub.

Director | Sompot Chidgasornpongse
Cast | Francois Langello

Railway Sleepers explores the close connection between Thai people and Thai railway, a celebration and record of what it is like to live in Thailand today. Through various activities and scenes inside and outside the moving vehicles, the film turns the train into the microcosm of life in Thailand during this changing time.