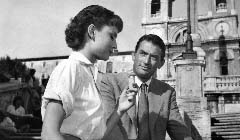 USA / 1953 118' / B&W
(+18)
English, French & German with Turkish sub.
Director | William Wyler
Screenplay | Ian McLellan Hunter, John Dighton
Cast | Gregory Peck, Audrey Hepburn, Eddie Albert
Brining Audrey Hepburn the Best Actress award, Roman Holiday is about modern princess Ann who defied the impositions of the royalty and came to Rome by herself to discover the city. American journalist Joe who covers his identity to find interesting story meets Ann in Rome. However, her plans collapse when they fall in love with each other.