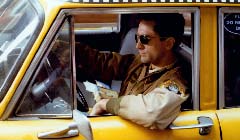 USA / 1976 114' / Colour
English with Turkish sub.

Director | Martin Scorcese
Screenplay | Paul Schrader
Cast | Robert De Niro, Jodie Foster, Cybill Shepherd

One of the greatest directors alive, Martin Scorsese's classic Taxi Driver has still a great influence on cinema today. Driving around the streets of New York at night, taxi driver Travis Bickle witnesses incidents in the darkest places of the city that makes him increasingly indifferent and tries to destroy the society of which he is not a part at the end. This masterpiece, which shows us the world from the perspective of Travis Bickle who is engraved in memories with Robert De Niro's spectacular performance, is also a perfect lesson on scriptwriting and directing.