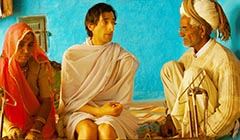 USA / 2007 91' / Colour
English, Hindi, German, Tibetan with Turkish sub.

Director | Wes Anderson
Screenplay | Wes Anderson, Roman Coppola
Cast | Owen Wilson, Adrien Brody, Jason Schwartzman

Three brothers with completely different characters take the road to India after they hear that their father died. They come across with fantastic adventures during this journey. This trip becomes the beginning of the efforts of these brothers who are trying to get to know each other and get close.