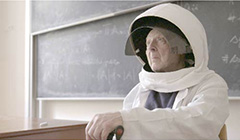 Germany, Czech Republic / 2019 68' / Colour
English, German and Czech with English and Turkish sub.

Director | Veronika Janatková

It is the Cold War Period, political and economic tensions permeated daily life and you come across with a window of hope that would take you away from all those unfavorable conditions. And this window takes you to the moon too! When Pan Am Airways started to create a waiting list for the first commercial flights to the moon, it did not know that 100,000 people would die for being in the list. For her documentary Ticket to the Moon, director Veronika Janatkova came together with some of those 100,000 space enthusiasts constituting the Pam Am's First Moon Flights Club and made a documentary that narrates their story full of hope with a humorous style.