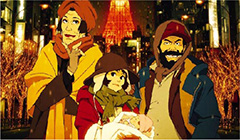 Japan / 2003 92' / Renkli Colour
Japanese, Spanish, English with Turkish sub.

Director | Satoshi Kon
Screenplay | Satoshi Kon
Cast | Tôru Emori, Yoshiaki Umegaki, Aya Okamoto

Living in Tokyo streets, three homeless people –high school student Miyuki who left home, transgender Hana and middle-aged alcoholic Gin- find a baby in garbage on New Year's Eve. Hana, who has always dreamt of being a mother, convinces their friend to keep the baby for a night. Next day, they leave the slummy streets of Tokyo and head to wealthy districts full of luminous streets to find the baby's mother. Thus, the trio, who will have to face their own past, embarks on the adventure of their lives.