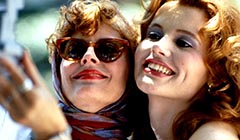 Women's Day film selection will start with Female Directors and Thelma & Louise at Kundura Cinema.

Engraved on minds as a feminist praise, Thelma&Louise will show us the story of another couple of women who embark on various adventures in the pursuit of finding themselves.


FEMALE DIRECTORS

China / 2012 43' / Colour
Chinese with English & Turkish sub.

Director | Yang Mingming
Screenplay | Yang Mingming
Cast | Yue Guo, Yang Mingming, Guo Yue

Yang Mingming's Female Directors, a short mockumentary about two film school graduates navigating their ways around sex, friendship, and employment.


THELMA & LOUISE

USA, UK, France / 1991 130' / Colour
English with Turkish sub.

Director | Ridley Scott
Screenplay | Callie Khouri
Cast | Susan Sarandon, Geena Davis, Harvey Keitel

Two best friends set out on an adventure, but it soon turns around to a terrifying escape from being hunted by the police, as these two girls escape for the crimes they committed.