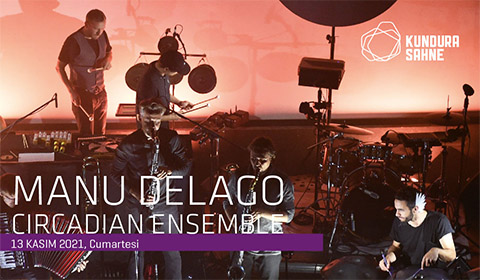 World renowned handpan player and composer Manu Delago returns with a brand-new album and his biggest live show to date.

Circadian (out 13th September via One Little Indian Records) takes the listener through the cycle of sleep stages, emulating REM, light sleep, deep sleep and an abrupt awakening. Delago was inspired by the concept of individual circadian rhythms, due in part to his own lack of sleep as an international touring musician with Björk, Olafur Arnalds, Cinematic Orchestra and Anoushka Shankar.

"Before I made this album I had a phase of very intense touring with multiple trips to five different continents, without a break for several months" said Delago, explaining the nocturnal theme of the record.

"It literally felt like touring with four bands simultaneously and in my dreams the music and crews started to commingle. I found it interesting how my brain was trying to digest all these experiences during sleep hours. In fact, during REM sleep the brain is very creative. In that stressful touring period, I started to consciously appreciate sleep and how much it contributes to mastering any challenge.

"Manu Delago's previous release, the multi-award winning film Parasol Peak, was written to be performed and recorded on a mountain under extreme circumstances but the music was never played live in front of an audience. Delago states the whole expedition as a big lesson in team spirit and ensemble playing. For Circadian Delago put together a mew ensemble with some of his favourite musicians to make the album and live-show a unique sonic journey.

A departure from the Austrian musician's revered electronic-leaning work in Silver Kobalt and Metromonk, Delago incorporated percussive instruments found on those worldwide tours – from places such as Vietnam, Russia, Turkey and Indonesia – with an aim to create an electronic-inspired album in an acoustic form. "I wanted to incorporate elements of the electronic music that influences me; I used clarinets and accordion like warm analog synthesizers, and added strings and trombone to give it an orchestral but yet very intimate character" he explains.