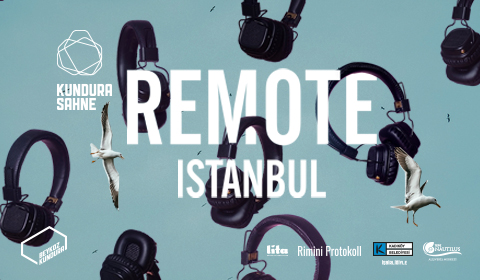 Kundura Stage - a new theatrical "hidden gem" in Istanbul - opens this September with an interactive performance in the heart of the city, produced by Germany's renowned documentary theatre group Rimini Protokoll.

Focusing on contemporary performance arts across multiple genres, Kundura Stage is an alternative platform for cutting edge theatre productions. It marks the second stage in the redevelopment of Beykoz Kundura as a multipurpose arts venue and cultural destination in Istanbul.

The inaugural season launches with Rimini Protokoll's "Remote Istanbul" - a theatrical audiovisual journey in the streets of Istanbul. The interactive and immersive experience sees a small group of audience members set off into the heart of Istanbul with headphones. Guided by a synthetic voice, they are asked to watch each other and make individual decisions whilst always remaining as part of a group.
"Remote Istanbul'' opens to the public from 7 August.
Benefit from discounted price for group attendances to Remote Istanbul.
20% discount on purchase of at least three tickets at once!
The tours are in Turkish.
Only on September 26th, the tour will be in English.
The saturdays of October 30th, November 27th and sundays of October 31st, November 28th the tour will be conducted in both English and Turkish simultaneously, within the same mixed group.
| | Event Name | Venue | Date | Status | |
| --- | --- | --- | --- | --- | --- |
| | REMOTE ISTANBUL | KADIKOY | 18.09.2021 17:00 | Past Event | |
| | REMOTE ISTANBUL | KADIKOY | 19.09.2021 17:00 | Past Event | |
| | REMOTE ISTANBUL | KADIKOY | 26.09.2021 17:00 | Past Event | |
| | REMOTE ISTANBUL | KADIKOY | 02.10.2021 16:30 | Past Event | |
| | REMOTE ISTANBUL | KADIKOY | 03.10.2021 16:30 | Past Event | |
| | REMOTE ISTANBUL | KADIKOY | 09.10.2021 16:30 | Past Event | |
| | REMOTE ISTANBUL | KADIKOY | 17.10.2021 16:00 | Past Event | |
| | REMOTE ISTANBUL | KADIKOY | 23.10.2021 16:00 | Past Event | |
| | REMOTE ISTANBUL | KADIKOY | 30.10.2021 16:00 | Past Event | |
| | REMOTE ISTANBUL | KADIKOY | 31.10.2021 16:00 | Past Event | |
| | REMOTE ISTANBUL | KADIKOY | 06.11.2021 15:30 | Past Event | |
| | REMOTE ISTANBUL | KADIKOY | 07.11.2021 15:30 | Past Event | |
| | REMOTE ISTANBUL | KADIKOY | 13.11.2021 15:30 | Past Event | |
| | REMOTE ISTANBUL | KADIKOY | 14.11.2021 15:30 | Past Event | |
| | REMOTE ISTANBUL | KADIKOY | 27.11.2021 15:30 | Past Event | |
| | REMOTE ISTANBUL | KADIKOY | 28.11.2021 15:30 | Past Event | |
| | REMOTE ISTANBUL | KADIKOY | 04.12.2021 15:00 | Past Event | |
| | REMOTE ISTANBUL | KADIKOY | 11.12.2021 15:00 | Past Event | |
| | REMOTE ISTANBUL | KADIKOY | 18.12.2021 15:00 | Past Event | |
| | REMOTE ISTANBUL | KADIKOY | 25.12.2021 15:00 | Past Event | |