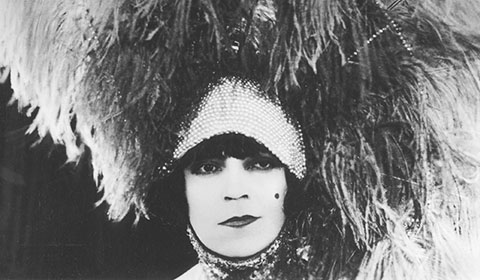 "She taught me everything I know." Greta Garbo

In her cinema career that began as a star in 1910, Asta Nielsen, who portrayed passionate, rule-breaking, and brave women contrary to expectations, and whose films were subjected to censorship, is brought back to life at Kundura Cinema in the 2023-2024 season.

Her performative acting that defied societal codes and the unconventional projects she chose served as inspiration for many subsequent female actors. Asta Nielsen, the first international star and producer of the silver screen, whose career was shaped by 7 films, will be shown with restored copies accompanied by live performances by master musicians from Turkey.

As part of Kundura Cinema's program "Pioneering Women of Cinema" inviting audiences to remember and explore women, their efforts, and creativity in the history of cinema, a selection will be screened under the curation of writer and film critic Pamela Hutchinson. To read the curator's article, please click here.
| | Event Name | Venue | Date | Status | |
| --- | --- | --- | --- | --- | --- |
| | HAMLET | KUNDURA CINEMA | 21.10.2023 16:30 | On Sale | |
| | ZAPATA'S GANG & ABC OF LOVE | KUNDURA CINEMA | 19.11.2023 16:30 | On Sale | |
| | THE ABYSS & THE BLACK DREAM | KUNDURA CINEMA | 18.02.2024 16:30 | On Sale | |
| | THE FILM PRIMADONNA & DECLINE | KUNDURA CINEMA | 17.03.2024 16:30 | On Sale | |